Who are Westcountry Fabrication?
Westcountry Fabrication Ltd is a steel fabrication firm managed by Jack Gailer. We have developed quite significantly since our first ISO9001 accreditation in 2013. We moved from Plymouth, Devon to a larger premises just over the Tamar in Saltash, Cornwall. The move was prompted by a need for a larger workshop to accommodate our growing team and larger scale steel projects. What started out as a couple of fabricators making gates and railings has now developed into a team of 14 members with skills and experience in MIG, TIG and Arc welding, fabrication, and installation of a diverse range of projects. Our diversity and skill base allows us to take on larger and more complex projects (watch this blog for more updates on our projects and for examples of our work such as steel frame buildings, feature staircases, stainless steel and glass balustrades and balconies). We have also launched a new e-commerce website from which customers can order structural steel direct. We pride ourselves on our transparent pricing and rapid local delivery service that this website offers. We offer complete steel fabrication packages to domestic and commercial clients and are fortunate to currently have a very full order book taking us ahead into 2021.
What is ISO9001:2015 Quality Assurance?
As part of our ongoing business development we are committed to continuous improvement. The ISO9001:2015 certification is a marker of our commitment to quality. We are extremely proud to have renewed our ISO9001:2015 certificate following our recent audit in October 2020 in what has been an unusual and challenging year. ISO9001 is a globally recognized standard, defined as the international standard that specifies requirements for a quality management system (QMS). In achieving our certificate we have demonstrated that we consistently provide products and services that meet the needs of customers, the needs of our staff and regulatory requirements. The seven quality management principles are:
Thank you to our team for your ongoing commitment to quality
There are many elements to the ISO 9001:2015 audit process and to be successful it requires all staff to be engaged in the process of improvement and quality management. So, firstly we thank our team for continuing to show their ongoing commitment to quality, especially given the additional challenges we have all faced through 2020. The Westcountry team really are the absolute best!
Secondly, we would like to thank our customers. Our loyal customer base with the repeat custom from both contractors and domestic clients is always appreciated. The continued support of our customers through placing orders and positive reviews have enabled us to continue to operate through this challenging year.
Finally we would also like to take this opportunity to thank the Cornwall and Isles of Scilly Growth and Skills Hub, as well as Cornwall Marine Network and Oxford Innovation. We have benefitted from both fully and partially funded training courses and business coaching for our team including Internal Auditor Training, Leadership and Management, Building and Maintaining and Effective Team, Effective Marketing, Content and Visibility, Lean manufacturing and Agile Value Stream Mapping.
We are thrilled with the feedback from our lead external auditor Martin Lake on behalf of QAS IMSM who identified several areas in our Quality Management System as 'excellent', something he informs us he does not often identify when auditing other firms. Thank you Martin.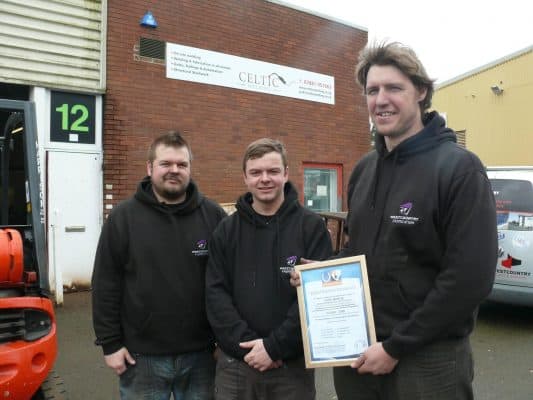 Left: 'Then' Photo from 2013- Neil Hart, Jay Hart and Jack Gailer holding their first ISO9001:2008 (at the time) certificate for general fabrication and welding stood outside of our first workshop in Chantry Court, Plymouth. The workshop displays the name 'Celtic Welding' which is the name Jack started the business under before developing into Westcountry Fabrication.
Right: 'Now' Photo from 2020- Amanda Hulks, Jay Hart, Lee Hart, Tom Jane, Steve Phillips, Niki Shaw and Jack Gailer with our recent ISO9001:2015 certificate pictured with one of our company vehicles. Thanks to all of our team including those that are not pictured Lee Jacketts, Callum O'Brien, Neil Hart, Amanda Carpenter, Ben Richards and Danielle Pelley.