Westcountry Fabrication Ltd have the privilege of working on some spectacular sites in Devon and Cornwall and this one in Kingswear overlooking the River Dart is no exception.
We were contracted to fabricate and install steelwork for a new home by a longstanding loyal customer. Our customer provided us with structural engineer drawings which we then sent on to our draughtsman (Gareth at Sigma Draughting). Gareth detailed the drawings and produced a 3D model using Tekla and detailed components for fabrication. These drawings are provided to our workshop team who fabricate the steel components in our workshop in Saltash and label them up so that each part has a unique reference to make assembly on site more efficient.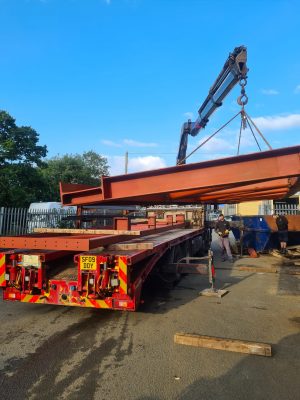 Once fabrication was completed, we delivered the steel to the site and our site teams installed the steel in four stages (to allow for other trades to fill in masonry elements, flooring etc). The first two phases were erected by hand because at the time the site didn't have enough floor area for a crane.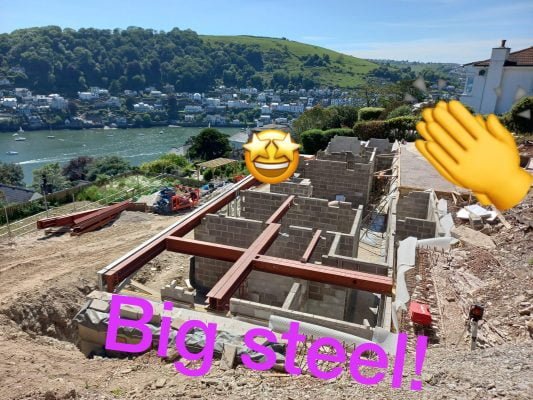 Once out of the ground more floor area was freed up and we were able to get a crane on site for the remaining two installation phases. The site team, overseen by the Managing Director Jack, did an exceptional job. The steels all went together exactly as planned which, is testament to the accuracy of Gareth's drawings, the precision of the fabrication team in the workshop the efficiency of the site team.
We were blessed with fair weather for much of this installation, except one week when we had a heatwave- up on that scaffold it was pretty toasty that week! Our customer has been a pleasure to work with and we are already well underway with their next project on an equally spectacular site in Devon. As always, the success of this project is thanks to the hard work and dedication of our team, many of whom have worked huge amounts of overtime to keep up with demand for steel as we have been working at capacity for some time now. Thanks also to our suppliers, with the high demand for steel work at present they have also been under pressure but have also worked hard to maintain productivity and reliability.
We are now booking in projects into December and the new year. For any basic steel supply, we are still able to turnaround these orders within a week (you can order direct from our recently updated e-commerce website www.westcountryfabricationltd.co.uk).
With thanks to: